Everyone can have negative thinking. You and I, and others. There are those who say that it kills. If our actual conditions were actually really bad has been thought continuously, then we end up stuck to have a bad feelings. Bad mind tends to make us have a bad performances again. Thus the vicious cycle will continue. Here in this writing, I propose dilemma faced by bipolar sufferer like me.
Perhaps the above figures grossly exaggerated. Bad thoughts does not kill us. However, at least the bad thoughts does not make us happy at all. Could we happy with bad thoughts?. Certainly not is not it?. Bad thoughts can happen to everyone. However, the more extreme circumstances that can occur in patients with bipolar falling on depressive conditions. Indeed, I and all my caregivers should consider the most effective treatment for bipolar disorder to me as a sufferer as well.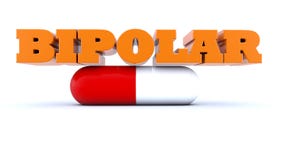 As we have seen together. Bipolar patients often fall on the two extreme phase each other. Namely the manic phase and a depressive phase. At this depressive condition often bad thoughts can kill the patient. Killing in the literal sense because for example there is a push to suicide.
However, most of us are not people with bipolar. Bipolar incident appeared very small in the population. Less than two percent. But the bad thoughts were still not favorable conditions for a healthy person. Sense of optimism generated by positive mind is much more constructive. Good or positive thoughts like this evokes hope. Make us more energy to carry out positive activities.
Exciting Goes to Manic Phase
However, for patients with bipolar, good thoughts that evoke hope like this will be subjected to fall in the opposite condition, ie the condition of manic. At this manic condition, the patient will be so eager to indulge tirelessly. So excited that they forget their physical condition that is no longer possible to handle activities. It is also not healthy.
Not Too Afraid Being Bipolar
However, as I mentioned earlier, most of us are not people with bipolar. Therefore, just relax in facing this life. Suffering bipolar or not is determined by a psychiatrist, and it requires a long observation. Rest assured that you are in good health. And rest assured that with positive thinking we can become happier human being.
photograph by Hasanuddin M Kholil